Profile
Display Attributes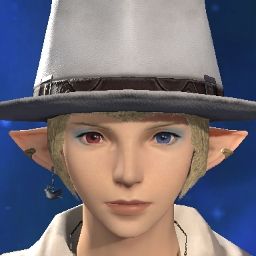 Race/Clan/Gender
Lalafell
Dunesfolk / ♀
Nameday
1st Sun of the 3rd Astral Moon
Guardian
Nymeia, the Spinner
Grand Company
Immortal Flames / Flame Captain
Attributes
| | |
| --- | --- |
| Strength | 350 |
| Dexterity | 391 |
| Vitality | 1935 |
| Intelligence | 411 |
| Mind | 2130 |
Offensive Properties
| | |
| --- | --- |
| Critical Hit Rate | 1315 |
| Determination | 1390 |
| Direct Hit Rate | 400 |
Defensive Properties
| | |
| --- | --- |
| Defense | 1409 |
| Magic Defense | 2463 |
Physical Properties
| | |
| --- | --- |
| Attack Power | 350 |
| Skill Speed | 400 |
Mental Properties
| | |
| --- | --- |
| Attack Magic Potency | 2130 |
| Healing Magic Potency | 2130 |
| Spell Speed | 640 |
Role
LEVEL 90
Character Profile
Need a housekeeper? Greenskeeper? Dirty linens piling up?
Zim's always available for hire. Rates and services are
reasonable and negotiable
! No ERP, please.
Looking to get to know her a little better? IC she keeps a journal, which is VERY well hidden in her apartment. But OOC, feel free to read her
entries, thoughts, and life
.
41bd6ec8c51a7cdc9152