Profile
Display Attributes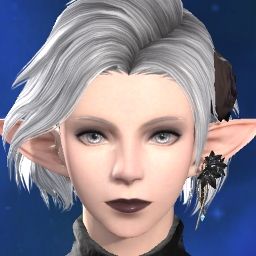 Race/Clan/Gender
Elezen
Duskwight / ♀
Nameday
7th Sun of the 3rd Umbral Moon
Guardian
Nymeia, the Spinner
Grand Company
Order of the Twin Adder / Serpent Captain
Attributes
| | |
| --- | --- |
| Strength | 306 |
| Dexterity | 340 |
| Vitality | 5033 |
| Intelligence | 5091 |
| Mind | 273 |
Offensive Properties
| | |
| --- | --- |
| Critical Hit Rate | 3229 |
| Determination | 2675 |
| Direct Hit Rate | 2548 |
Defensive Properties
| | |
| --- | --- |
| Defense | 3377 |
| Magic Defense | 5910 |
Physical Properties
| | |
| --- | --- |
| Attack Power | 306 |
| Skill Speed | 380 |
Mental Properties
| | |
| --- | --- |
| Attack Magic Potency | 5091 |
| Healing Magic Potency | 273 |
| Spell Speed | 1549 |
Role
LEVEL 80
Character Profile
A living shadow turns itself into a crow and then into a duskwight elezen. A mysterious tale unfolds in a land of impossible dreams. Please refer to the blog for further
madness
details.
Words of advise:
1) Don't be affraid of the Darkness. A cold touch and some scratches are just it's way to show affection. s2
2) Don't chase shadows. They are shy by nature.
3) Don't feed inner demons. They'll get lazy in their jobs.
4) Trust in your dark side. It only wants to chill and what's best for you.
5) Demons and shadows are not the same thing. Nor it's evil and darkness. Both parties keep feeling offended by this claimings. And shadows are way more beautiful and interesthing!