Profile
Display Attributes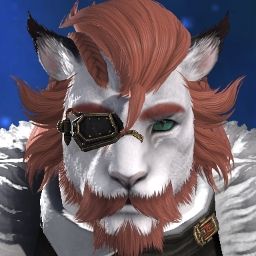 Race/Clan/Gender
Hrothgar
Helions / ♂
Nameday
7th Sun of the 5th Umbral Moon
Guardian
Nald'thal, the Traders
Grand Company
Immortal Flames / Flame Captain
Attributes
| | |
| --- | --- |
| Strength | 292 |
| Dexterity | 4593 |
| Vitality | 4907 |
| Intelligence | 218 |
| Mind | 258 |
Offensive Properties
| | |
| --- | --- |
| Critical Hit Rate | 2107 |
| Determination | 2027 |
| Direct Hit Rate | 2296 |
Defensive Properties
| | |
| --- | --- |
| Defense | 4457 |
| Magic Defense | 4457 |
Physical Properties
| | |
| --- | --- |
| Attack Power | 4593 |
| Skill Speed | 887 |
Mental Properties
| | |
| --- | --- |
| Attack Magic Potency | 218 |
| Healing Magic Potency | 258 |
| Spell Speed | 380 |
Role
LEVEL 80
Character Profile
The first end came so suddenly you couldn't say good-bye to me.
The tenth end came with agony, I thought that we were meant to be.
The hundredth end was simply just an apathetic day for me.
The thousandth end was ecstasy, the people begged for to me to bleed.
The millionth end was vanity, I thought I saw you smile at me.
The billionth or the trillionth end, I gave up counting how many.