Profile
Display Attributes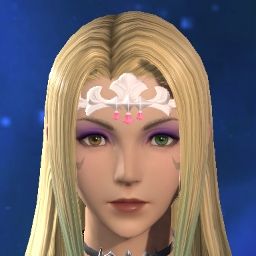 Race/Clan/Gender
Hyur
Midlander / ♀
Nameday
2nd Sun of the 5th Astral Moon
Guardian
Nophica, the Matron
Grand Company
Order of the Twin Adder / First Serpent Lieutenant
Attributes
| | |
| --- | --- |
| Strength | 912 |
| Dexterity | 349 |
| Vitality | 999 |
| Intelligence | 165 |
| Mind | 136 |
Offensive Properties
| | |
| --- | --- |
| Critical Hit Rate | 449 |
| Determination | 527 |
| Direct Hit Rate | 642 |
Defensive Properties
| | |
| --- | --- |
| Defense | 259 |
| Magic Defense | 327 |
Physical Properties
| | |
| --- | --- |
| Attack Power | 912 |
| Skill Speed | 663 |
Mental Properties
| | |
| --- | --- |
| Attack Magic Potency | 165 |
| Healing Magic Potency | 136 |
| Spell Speed | 359 |
Role
LEVEL 65
Character Profile
I have lost most of my past history. I know only I had left a place of great forests, meadows and high, snowy mountains - a land of plenty, fruitful and peaceful - until something happened. I learned of the Calamity while being cared for by a peasant couple who had fled from the same land, saying they had found me unconscious & bleeding from being trapped in a crushed house. I lived with them until i felt healed and began to feel restless. They encouraged me to discover what I could of myself, even if I could not go home, as great landslides in the mountains cut us off from our past...

I left them when I was maybe 18, maybe 20-ish, I don't know, & began to travel to find a new life and home for myself. I seem to have a gift for healing, and like to make things with my hands. I also have found I like to travel & see new places, although I have much yet to learn.

I heard of Eorzea and its troubles and heroism, and headed there, finding after crossing a great sea, & days on Eorzean roads, a grand place of great forests that seemed very familiar, yet also strange to me, but it comforted me to be among the trees, so I stayed & began an apprenticeship in healing, & began slowly to find my feet and the beginning sense of finding a home again.

I've now been here almost two years & had many adventures, trying to help others along the way, as I was once saved & helped by strangers. I have learned magic, healing & weapons, & have a house of my own & friends & membership with a great Free Company. Life is still an adventure, & if I occasionally get tired, I have a safe place to rest until I'm on the road again. Somewhere there's something still pulling me, & I must at times give in to it, seeking new roads and new faces, while never forgetting the old ones, so dear now to me.