Profile
Display Attributes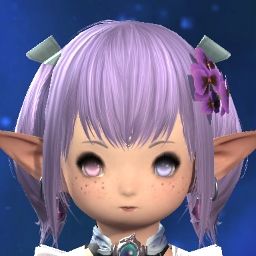 Race/Clan/Gender
Lalafell
Dunesfolk / ♀
Nameday
1st Sun of the 6th Astral Moon
Guardian
Menphina, the Lover
Grand Company
Immortal Flames / Second Flame Lieutenant
Attributes
| | |
| --- | --- |
| Strength | 97 |
| Dexterity | 219 |
| Vitality | 342 |
| Intelligence | 429 |
| Mind | 166 |
Offensive Properties
| | |
| --- | --- |
| Critical Hit Rate | 396 |
| Determination | 265 |
| Direct Hit Rate | 384 |
Defensive Properties
| | |
| --- | --- |
| Defense | 76 |
| Magic Defense | 137 |
Physical Properties
| | |
| --- | --- |
| Attack Power | 97 |
| Skill Speed | 354 |
Mental Properties
| | |
| --- | --- |
| Attack Magic Potency | 429 |
| Healing Magic Potency | 166 |
| Spell Speed | 436 |
Role
LEVEL 60
Character Profile
Oh! Hai There!
Laila here!
If you see me running around, Say hi!
I love making friends as does my twinny Lily Kin!

I run an FC called The Kinship.
We're a very tight-knit friendly group! If you ever need help with anything, stop us and ask! If we can help we will! We do accept new people into our FC but not until we know them decently well. Check out our FC page and forum for more info!