Announcing the Glamoured to Life Digital Fan Festival Event

It's time to show your favourite character (such as an NPC, your WoL, monster, etc.) how much you appreciate them! We're hosting a real-life glamour showcase themed around dressing up as your favourite character in the upcoming FINAL FANTASY XIV Digital Fan Festival 2021.

Don't have the desire to craft a costume or not used to dressing up in one? Worry not! You can wear simple pieces, like hats, masks, or other items to represent your favourite character as well. It's up to you if you'd like to use original hand-crafted items or simple store-bought pieces, so enjoy the freedom of dressing up as that special character however you'd like.

Let your creativity run wild and show us how you would dress up to represent your favourite character IRL!

* Entries may be showcased on our official social media channels, during a Digital Fan Festival 2021 stage event, or our websites.

By submitting a submission, you agree to abide by these guidelines.

Guidelines
Entry Requirements
Must possess an active FINAL FANTASY XIV service account (Users on Free Trial accounts cannot participate)

Must agree to the guidelines

Entry Period
From Tuesday, 16 March 2021 at 8:00 (GMT) to Monday, 10 May 2021 at 14:59 (GMT)
* The entry submission deadline has been extended. See the latest update for more details.
Theme
Showcase your appreciation for your favourite character (be it an NPC, monster, your own Warrior of Light, etc.) by dressing up as them however you'd like to. Whether you choose to wear an intricate outfit designed to completely mimic them, or simply create an outfit themed to showcase your love for a certain character, the choice is up to you!
How to Submit
Please submit your entry using the submission form below.
Please make sure to fill in all required fields and attach a photo of yourself dressed up.
Please note that we will not accept any entries separate from the submission form (such as physically mailed-in submissions).
How to Use the Entry Submission Form
1. After visiting the submission page, log in with your Square Enix Account.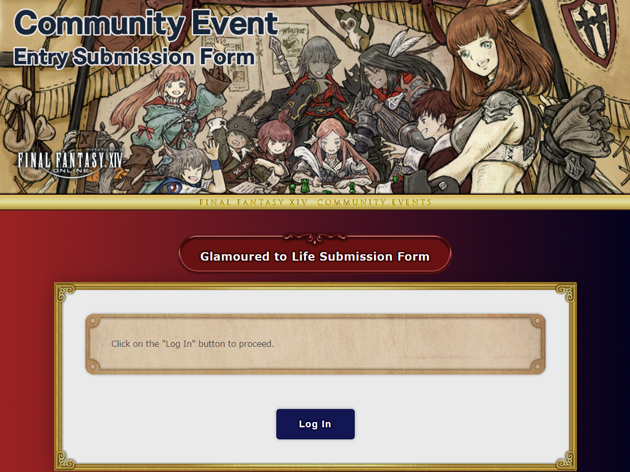 2. Enter the required information.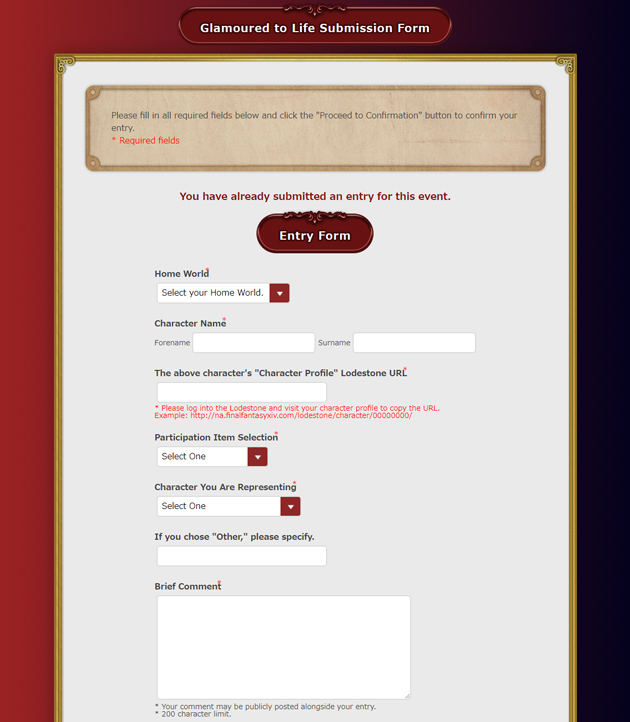 After you log in, the entry submission form will be displayed. Please fill out all the required information.
Required Fields

Home World
Character name
The URL to your Character Profile on Lodestone
(Ex. https://na.finalfantasyxiv.com/lodestone/character/000000/)
Name of the character you are representing
Participation item selection
Brief comment (Maximum of 200 characters)
* Please do not include personal information (such as your name or address) in your submission.
* Your comment may be used alongside your submission should it be showcased.

3. Upload your image.

Submit your image via the image upload feature.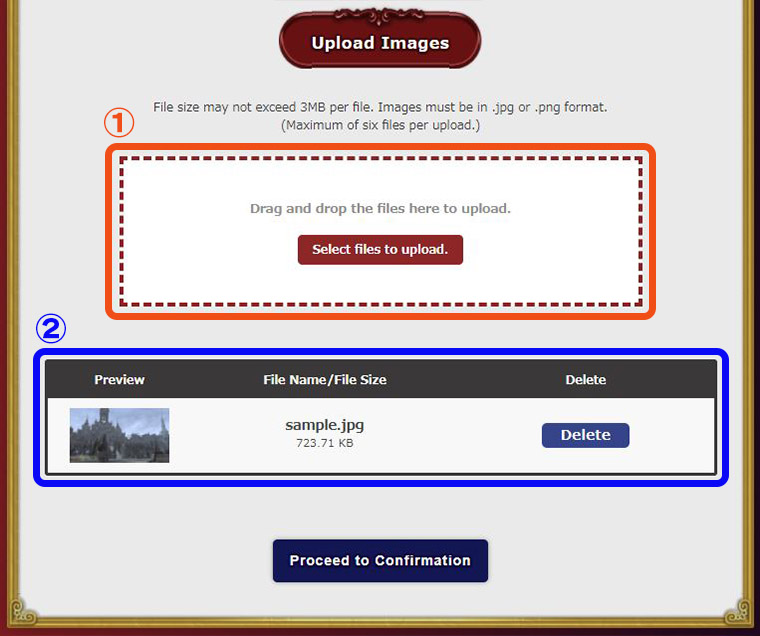 You can either drag and drop your image into the area indicated by ①, or you can choose the "Select files to upload." button to browse and select an image file on your computer. You'll be able to confirm the images you've selected in the area indicated by ②.
Once you've filled out the required information and finished uploading your images, select "Proceed to Confirmation" to advance.
4. Confirm the details of your submission.
On this screen, you can confirm the information you've entered. Make sure there are no errors in the submitted information and select "Submit Entry" to proceed. If you would like to edit your submitted information, select Edit Entry.
Once you finish submitting your entry, the following screen will be displayed.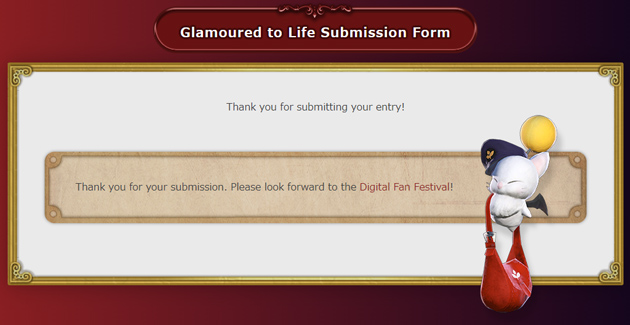 You can log back in to confirm that your entry has been submitted, or to submit a new entry to replace your existing entry.
* You may submit multiple entries during the submission period; however, only the latest entry will be accepted.
Photo Requirements
Attach only one (1) image.
You must hold a piece of paper in your photo that includes the name of the character you're dressed as and the "brief comment" you included in your submission. The paper should be held by yourself in a way that the details are legible in the photo. Please do not include your real name, nickname, or character name on the paper.
Image Size/Resolution: 1920x1080 or 1080x1920 pixels or higher.
Image Format: Either .jpg or .png file format.
File Size: Under 3MB.
* Entries may be showcased on our official social media channels, during a Digital Fan Festival 2021 stage event, or our websites.
* Please practice proper social distancing and follow any guidelines issued by your local government. We highly recommend taking your photo at home, or somewhere you can safely take your photo.
* We recommend taking photos in a well-lit area.
* Please make sure the photo only includes yourself. No group photos will be accepted.
* For your safety, please refrain from asking third parties to take photos for you.
* You may use image/photo editing software to crop, alter, enhance, or add more features (such as stickers and decorations) to your photo.
* Please avoid submitting photos that expose too much skin. Please do not submit any photos that could be considered inappropriate.
* Submissions featuring multiple images will be disqualified. Please only upload one (1) image in your submission.

In-game Participation Items
All qualified participants shall each receive one (1) of the following participation items of their choice.
Either Mandragora Choker or Ahriman Choker
* In-game participation items are scheduled to be delivered on or about Wednesday, 30 June 2021.
* In-game participation items are non-transferrable and will only be delivered to the character specified in the submission form.
* The above in-game participation items are in-game FINAL FANTASY XIV items with no monetary value.

Additional Notes
Publicizing Your Submission
We suggest refraining from sharing your photo publicly until the Digital Fan Festival 2021 begins on Saturday, 15 May 2021.

Handling Personal Information
Personal information in the submission will be managed under Square Enix's privacy policy.

Disqualification
The following submissions may be disqualified:

Submissions that do not meet the theme of this event.
Submissions with multiple images attached. Please only upload one (1) image in your submission.
Submissions that infringe the rights of Square Enix and third parties, including copyright, intellectual property rights, and privacy.
Submissions that do not include the required information.
Submissions that may violate public decency or morals.
Submissions that are deemed inappropriate to be showcased publicly by Square Enix.
Copyright
Each participant, upon submission of their photo and other materials submitted in connection with the event (including all copyright, trademark, and other intellectual and proprietary rights associated therewith), irrevocably grants to Square Enix, and each of Square Enix's affiliate companies, and their agents and licensees, the non-exclusive, perpetual, royalty-free, no-cost license and right to use and otherwise exploit the photo and other materials, in any and all media throughout the world including, without limitation, the right to display, distribute, copy, edit, sell, and adapt the same, to combine it with other material, and otherwise use and exploit it without any compensation or attribution to participants or any third party.
Submissions
Square Enix will determine when and how submissions will be displayed if they are selected to be showcased publicly.
You agree to allow Square Enix to make alterations to the submission if necessary.
Square Enix shall not be liable for any cost incurred for the submission.
---
Proceed to the Glamoured to Life submission page.
Visit the FINAL FANTASY XIV Digital Fan Festival 2021 special site.