Presenting the FFXIV and Amazon.com® Free DLC Giveaway!

FINAL FANTASY XIV Online and Amazon.com® are partnering up once more to offer an exciting bonus for adventurers! Qualifying orders of $19.99 or more on video game purchases on Amazon.com will earn you a Mog Station item code that, when redeemed, will grant you the Black Fat Chocobo mount. Now is the perfect opportunity to grab a 60-day game time code ahead of Shadowbringers release!
How to Participate
Make a qualifying purchase of $19.99 or more on video games (excludes pre-orders) from the Amazon.com video games department to receive an item code redeemable on the Mog Station. Amazon will e-mail the Mog Station code directly to purchasers who qualify.

This offer only applies when purchasing qualifying items that are shipped and sold by Amazon.com.
Campaign Duration
From Sunday, June 16, 2019 at 12:00 a.m. (PT) through Monday, July 1, 2019 at 11:59 p.m. (PT)
Campaign In-Game Item
Black Fat Chocobo Mount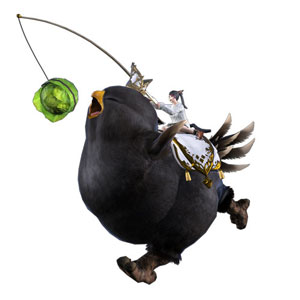 Redeeming Your In-Game Item Code
Log into the FINAL FANTASY XIV: Mog Station with your Square Enix account.


* You must have a North American FINAL FANTASY XIV service account to redeem this item code.



Select the "Your Account" menu from the top of the screen. If you have multiple service accounts (represented as tabs), please select the service account you wish to redeem your code on.
Select "Enter Item Code," then follow the on-screen instructions to redeem your code.
Please Note
The item code will only work on North American Square Enix accounts and will not work on accounts from a different region.
The item will be distributed to a single character of your choice on a selected service account.
Resale of the item code is strictly prohibited.
The item code does not expire. Notwithstanding the foregoing, Square Enix reserves the right to establish an expiration date for these item codes by providing advance notice via appropriate channels.