The Feast Preview
---

In today's patch preview, we offer you a look at the new PvP encounter, The Feast.
* The Feast is scheduled to be implemented in patch 3.21, two weeks after patch 3.2.
The table is set, and the wolves gather for the Feast! Will you gorge on the flesh of your foes, or find yourself served on a platter? Only the most savage of beasts are invited to this banquet─you'll need fangs of steel and an endless thirst for blood! Wait not for the tolling of the culling bell! Devour your rivals, take their hides for trophies, and build a hunter's throne from their bones!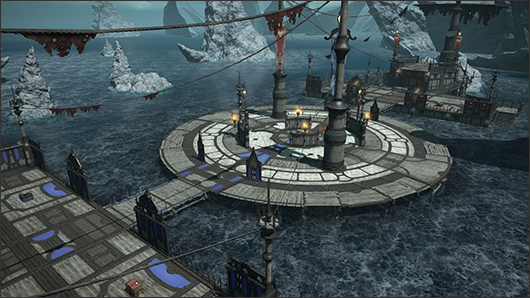 The Feast is a new PvP arena in which the main objective is to steal your opponent's medals. The winner of these matches is determined by whichever team has the most at the end of each match. Individual PvP rating and tiers will also be assigned to players and the highest-ranked participants of each season will be awarded a special prize.
* Season one is scheduled to take place in patch 3.25, with pre-season matches between patches 3.21 and 3.25. Please note there will be no rewards offered at the end of pre-season.
- Entry Requirements
The Feast will automatically unlock for players who have already unlocked the Wolves' Den.
The Feast
The Feast is divided into three arenas, for each of which ratings and participant numbers will differ. The 8 on 8 matches will be held in a larger arena.
Arena
Role Requirements
Number of Participants
Ratings
The Feast (8 on 8 – Matched Party)
TANK:2
Melee DPS:2
Ranged DPS:2
HEALER:2
One to two players
None
The Feast (4 on 4 – Solo)
TANK:1
Melee DPS:1
Ranged DPS:1
HEALER:1
One player
Solo ratings will change
The Feast (4 on 4 – Light Party)
TANK:1
Melee DPS:1
Ranged DPS:1
HEALER:1
Four players
Party ratings will change
Tank: Gladiator / Paladin / Marauder / Warrior / Dark knight
Melee DPS: Pugilist / Lancer / Rogue / Monk / Dragoon / Ninja
Ranged DPS: Archer / Thaumaturge / Arcanist / Bard / Machinist / Black mage / Summoner
Healer: Conjurer / White mage / Scholar / Astrologian
* New members cannot be added during matches.
* In the 27th Letter from the Producer LIVE it was announced that five different arenas will be introduced; however, only three arenas will be implemented initially. The remaining two will then be added depending on the circumstances surrounding non-rated matches.
Requirements
| | |
| --- | --- |
| Time Limit | 10 minutes |
| Level Requirement | Disciple of War or Magic level 60 |
| Item Level Requirement | Average Item Level of 150 or above |
| Item Level Sync | Item level 150 |
* For arenas that require an item level sync, all item stats will be adjusted accordingly and materia bonuses will be ignored during PvP.
* Players who abandon the Feast (not including players who join a match in progress or are vote kicked) will receive a penalty. Players so penalized will be unable to register for Frontline campaigns or the Wolves' Den for 30 minutes.
* Players inactive for over a period of two minutes will automatically be removed from the Feast.
Rated matchings will begin in patch 3.25. In addition, daily rankings will be displayed on the Lodestone. Additional details on ratings will be released on a later date.