FFXIV Storms into gamescom 2017

FINAL FANTASY XIV is not to be missed at gamescom 2017 – Europe's biggest computer and video game show! Join us for exciting battles and stage shows in Cologne, Germany from August 22 to 26! There will be plenty of action in our two amazing booths, where you can play and earn rewards like our famous "I BEAT" t-shirts, and much more!
Visit us in Hall 9!
FFXIV will be playable at two booths this year! Whether you're a beginner or an experienced adventurer, you'll have many chances to grab some of the great prizes on offer. We will also be hosting guests from the development team who might even appear on stage! Keep your eyes peeled for Producer and Director Yoshi-P, Global Community Producer Foxclon, and Main Scenario Writer Natsuko Ishikawa! And we have much more than that in store for you as well!
Battle Challenge – Susano & Lakshmi – Hall 9, Booth C040
The two newest primals Susano and Lakshmi will be paying us a visit at gamescom! The primals will alternate each day, so drop by our Battle Challenge booth and face them to get your "I BEAT" t-shirt should you manage to defeat them! Feel free to bring your friends along even if they're brand-new to FFXIV, as we've recruited Community Ambassadors to help guide you through these challenges!

Make sure you plan ahead in order to be able to add both shirts to your collection!
Susano
Tuesday, August 22 (until midday)
Wednesday, August 23
Friday, August 25

Lakshmi
Tuesday, August 22 (afternoon)
Thursday, August 24
Saturday, August 26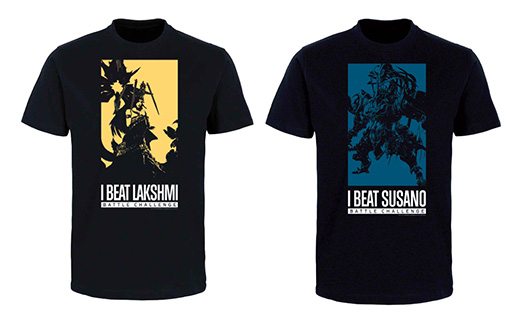 Battle Arena – Hall 9, Booth C050
Beat the Challenge Roulette!

Our Battle Challenge Roulette has proven very popular in the past so we're bringing it to gamescom! Spin the roulette wheels and challenge various battles with random handicaps in place. And don't worry, we will not make it easy for you! Emerge victorious in your trials and you will receive one of our primal keyrings as a reward!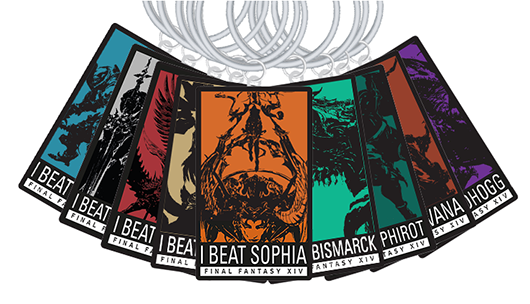 Don't miss the Battle Arena Stage Shows!
There will be plenty of opportunities for daring adventurers to join us on stage! Find the team at the booth to find out how you can sign up for various activities.

Team up for the Feast Tournament and play live on stage!
Gather your most skilled adventurer friends to register at the booth for the chance to join a PvP match in front of the audience, right there on stage! Fabulous prizes will be awarded to winning teams, so give it your all and show the whole audience who is the boss! Details to be announced at a later date.

FFXIV Cosplay Contest
We will be hosting a special FINAL FANTASY XIV Cosplay Contest at gamescom this year! Gather your favourite materials, sewing kits and other tools and get ready for what will be a show to remember.
Attendees who participate in the Cosplay Contest will be evaluated by an all-star panel of judges and the winners will get the opportunity to show off their costume on stage, as well as go home with some fabulous prizes!
More details about the Cosplay Contest can be found here.

Yoshi-P & Natsuko Ishikawa Signing Session!
Get a signature from Yoshi-P himself on Friday, August 25 from 18:00 (CEST)! Natsuko Ishikawa, the Main Scenario Writer of FFXIV, will also join this session, so do not miss the chance to get a signature from her as well! Head to the Battle Arena on Friday to find out how to take part.

Gamescom Fan Gathering 2017!
By now, gamescom Fan Gatherings are legendary and we want to keep this reputation up! Join Yoshi-P and other FFXIV team members for the party of the year! The venue is still a secret, but we're looking forward to spending the evening with you once more. Beer and soft drinks will be on us!

Head over to the official FFXIV forums and check out how you can take part in this!


(Please note: Only confirmed attendees will be able to attend)

We're looking forward to seeing you there!

---
For details on the event itself, check out the official website for
gamescom 2017
.