Profile
Display Attributes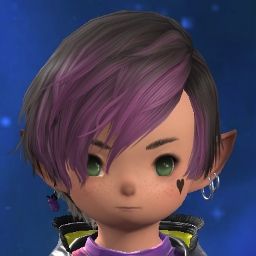 Race/Clan/Gender
Lalafell
Dunesfolk / ♂
Nameday
23rd Sun of the 2nd Astral Moon
Guardian
Byregot, the Builder
Grand Company
Immortal Flames / Flame Captain
Attributes
| | |
| --- | --- |
| Strength | 288 |
| Dexterity | 4440 |
| Vitality | 4664 |
| Intelligence | 274 |
| Mind | 292 |
Offensive Properties
| | |
| --- | --- |
| Critical Hit Rate | 2090 |
| Determination | 1734 |
| Direct Hit Rate | 2464 |
Defensive Properties
| | |
| --- | --- |
| Defense | 4339 |
| Magic Defense | 4339 |
Physical Properties
| | |
| --- | --- |
| Attack Power | 4440 |
| Skill Speed | 934 |
Mental Properties
| | |
| --- | --- |
| Attack Magic Potency | 274 |
| Healing Magic Potency | 292 |
| Spell Speed | 380 |
Role
LEVEL 80
Character Profile
- Player since 2.0 beta

- In the market for lala husbando :)

- Black Mage main since launch.

- Paladin and Scholar off main.

- Currently running a cwls and linkshell for lgbtq players both under the name: The Seventh Rainbow

- I also run a discord channel for LGBTQ+ and allies. Ask for more information.