Profile
Display Attributes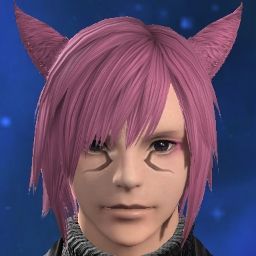 Race/Clan/Gender
Miqo'te
Seeker of the Sun / ♂
Nameday
12th Sun of the 3rd Astral Moon
Guardian
Oschon, the Wanderer
Grand Company
Immortal Flames / Flame Captain
Attributes
| | |
| --- | --- |
| Strength | 155 |
| Dexterity | 343 |
| Vitality | 4023 |
| Intelligence | 4258 |
| Mind | 254 |
Offensive Properties
| | |
| --- | --- |
| Critical Hit Rate | 2383 |
| Determination | 1201 |
| Direct Hit Rate | 2095 |
Defensive Properties
| | |
| --- | --- |
| Defense | 3131 |
| Magic Defense | 5475 |
Physical Properties
| | |
| --- | --- |
| Attack Power | 155 |
| Skill Speed | 380 |
Mental Properties
| | |
| --- | --- |
| Attack Magic Potency | 4258 |
| Healing Magic Potency | 254 |
| Spell Speed | 1398 |
Role
LEVEL 80
Character Profile
Full Profile:
pinkmiqo.carrd.co
Eternally Bonded to
Kresh Veldran
.
Ash'leytai is a
cat
dog who has rejected the Seekers' heavily heteropatriarchal society and strict adherence to a gender binary, woof. Their tribal name (Ash') is three letters instead of the traditional two for a tribe deserter, invoking the word for what remains when something is burnt down. Their forename is the traditionally feminine Seeker name Leytai, and their surname translocates the final letter from Tia (assigned to AMAB Seekers who haven't formed a harem) to the front, an acknowledgement and rejection of the culture they were born into.
They don't have a pronoun preference.
So in short, another gay
catboy
dogboy. Nothing new to see here, folks.