Profile
Display Attributes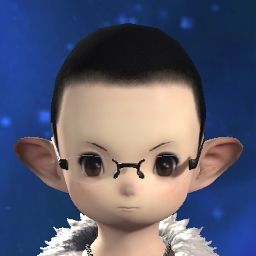 Race/Clan/Gender
Lalafell
Plainsfolk / ♂
Nameday
2nd Sun of the 4th Umbral Moon
Guardian
Rhalgr, the Destroyer
Grand Company
Immortal Flames / Flame Captain
Attributes
| | |
| --- | --- |
| Strength | 262 |
| Dexterity | 3115 |
| Vitality | 3342 |
| Intelligence | 250 |
| Mind | 263 |
Offensive Properties
| | |
| --- | --- |
| Critical Hit Rate | 2014 |
| Determination | 1623 |
| Direct Hit Rate | 1335 |
Defensive Properties
| | |
| --- | --- |
| Defense | 3119 |
| Magic Defense | 3119 |
Physical Properties
| | |
| --- | --- |
| Attack Power | 3115 |
| Skill Speed | 1239 |
Mental Properties
| | |
| --- | --- |
| Attack Magic Potency | 250 |
| Healing Magic Potency | 263 |
| Spell Speed | 368 |
Role
LEVEL 74
Character Profile
At long last, after over two years of being in the background, I finally join the girls I brought in. Adventurers, greetings. I am Bongaboi Pangyatoy. I am the gift that keeps on giving. I am the producer of content on twitch.tv/HomuHomu2093, which means I am the voice of The Misadventures FFXIV program. My personal Bangabae Everydae and bonded partner is Kahori Harukawa, the White Witch of Okami Rojo and main character. Her main form is a Hyur Midlander, her alternate form is a Plainsfolk Lalafell who is shorter than me. I also have a Hyur Midlander form as my main alternate form.

As an adventurer, I am of an alternate character status, the same as the characters in my wing based in Jenova. In terms of jobs, I am primarily a Monk for MSQ/HW and SB quests as well as Level 60 Gunbreaker for ARR sidequests but my focus for this account will be crafting and gathering. The girls under my wing are:

Kahori Harukawa - main character and wife
Georgette Lemare
Maki Harukawa
Aoba Suzukaze
Megumi Katou
Miku Argentea
Rikka Takarada
Izumi Hashima

As a retainer, I work for Miku and her husband Zorome in Jenova. You may have seen some of the other entries on the Lodestones above that feature song parodies (which I have written or co-written) as well as short stories involving me and my girls. Everything you see there is true and this Lodestone supplements the others.

So, with that said, thanks for visiting this page and may you ever walk in the Light...or Darkness...of the Crystal. Data Center, that is! And I'll see you around.