Profile
Display Attributes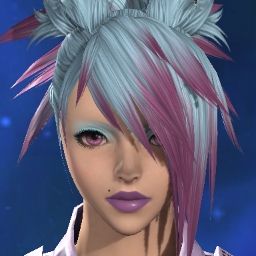 Race/Clan/Gender
Viera
Veena / ♀
Nameday
5th Sun of the 3rd Astral Moon
Guardian
Menphina, the Lover
Grand Company
Maelstrom / Second Storm Lieutenant
Attributes
| | |
| --- | --- |
| Strength | 186 |
| Dexterity | 357 |
| Vitality | 3490 |
| Intelligence | 3736 |
| Mind | 376 |
Offensive Properties
| | |
| --- | --- |
| Critical Hit Rate | 1799 |
| Determination | 1812 |
| Direct Hit Rate | 1601 |
Defensive Properties
| | |
| --- | --- |
| Defense | 2850 |
| Magic Defense | 4985 |
Physical Properties
| | |
| --- | --- |
| Attack Power | 186 |
| Skill Speed | 380 |
Mental Properties
| | |
| --- | --- |
| Attack Magic Potency | 3736 |
| Healing Magic Potency | 376 |
| Spell Speed | 1294 |
Role
LEVEL 80
Character Profile
I so far only have 7 Class/Job to 80 and those are Gunbreaker, White Mage, Scholar, Bard, Dancer, Summoner and Red Mage.

Focusing on doing mount hunting for the Dragons starting tomorrow I will need people that will be patient with me and help me learn the fight I have been watching Youtube videos for both Titania and Innocence but as long as someone is willing to help me learn the fight I will fight the other 2 as well those being Hades and Ruby Weapon.

I obtained Innocence's Mount so all that leaves is the other three.

Will be working on Rogue, Blue Mage and Black Mage to complete them.

I have played every final fantasy and have loved all the classes I have played so far.

I am on everyday from 11am till 5pm and sometimes I am on sooner from 10am till 4am. But it's usually the first if people want to help me get the Dragon's.