Profile
Display Attributes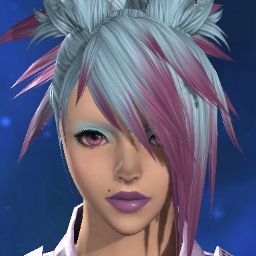 Race/Clan/Gender
Viera
Veena / ♀
Nameday
5th Sun of the 3rd Astral Moon
Guardian
Menphina, the Lover
Grand Company
Maelstrom / Second Storm Lieutenant
Attributes
| | |
| --- | --- |
| Strength | 186 |
| Dexterity | 357 |
| Vitality | 4209 |
| Intelligence | 360 |
| Mind | 4413 |
Offensive Properties
| | |
| --- | --- |
| Critical Hit Rate | 2682 |
| Determination | 2307 |
| Direct Hit Rate | 380 |
Defensive Properties
| | |
| --- | --- |
| Defense | 3125 |
| Magic Defense | 5465 |
Physical Properties
| | |
| --- | --- |
| Attack Power | 186 |
| Skill Speed | 380 |
Mental Properties
| | |
| --- | --- |
| Attack Magic Potency | 4413 |
| Healing Magic Potency | 4413 |
| Spell Speed | 959 |
Role
LEVEL 80
Character Profile
I so far have 14 Class/Job to 80 and those are.

Gunbreaker, White Mage, Scholar, Astrologian, Ninja, Samurai, Bard, Machinist. Dancer, Black Mage, Summoner, Red Mage and Blue Mage to it's max level for now as well as Leatherworker and Botanist.

Been focusing on pvp and leveling classes/jobs but will still want to get Hades and Ruby Weapon's mount at some point.

Will be working on Gladiator to complete it.

I have played every final fantasy and have loved all the classes I have played so far.

I am on everyday from 11am till 5pm and sometimes I am on sooner from 10am till 4am. But it's usually the first if people want to help me get the Dragon's.