Profile
Display Attributes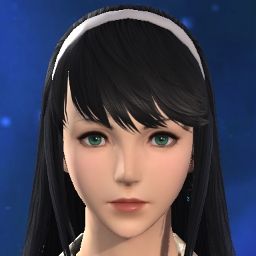 Race/Clan/Gender
Hyur
Midlander / ♀
Nameday
23rd Sun of the 1st Umbral Moon
Guardian
Menphina, the Lover
Grand Company
Order of the Twin Adder / First Serpent Lieutenant
Attributes
| | |
| --- | --- |
| Strength | 162 |
| Dexterity | 305 |
| Vitality | 2989 |
| Intelligence | 309 |
| Mind | 3069 |
Offensive Properties
| | |
| --- | --- |
| Critical Hit Rate | 1574 |
| Determination | 1619 |
| Direct Hit Rate | 364 |
Defensive Properties
| | |
| --- | --- |
| Defense | 2265 |
| Magic Defense | 3961 |
Physical Properties
| | |
| --- | --- |
| Attack Power | 162 |
| Skill Speed | 364 |
Mental Properties
| | |
| --- | --- |
| Attack Magic Potency | 3069 |
| Healing Magic Potency | 3069 |
| Spell Speed | 1911 |
Role
LEVEL 70
Character Profile
Kraudileny Bhirava
Profile:
My lovely girl, born from my passion for girls with long black hair, clean body without any mark, no tattoo, no piercing, she kept growing and facing what I love in a girl, made her as my perfect woman with a few of my qualities together with her own, respect, friendship, love and care. my dear girl born from the bottom of my hearth since 1996 to stay by my side forever, no matter where we are, we are together.
- Eternal love!
We are one, together and forever!.
♥
Kraudileny & Leandro
♥
__________________________________
PS.:
Due to finances issues, I will be retired of the game until 2023 when everything will be back to normal.
Reason?
Because I bought one apartment in another city, I will be moving there in October 2020, and because of the high price I am in debit with the bank for the next 4 years and I have to save every cents possible, or I will live on
red
forever.
Hope to See you all again soon.
Farewell for now, and wait for my return!