Profile
Display Attributes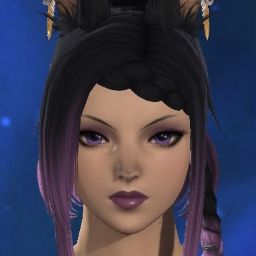 Race/Clan/Gender
Viera
Veena / ♀
Nameday
16th Sun of the 3rd Astral Moon
Guardian
Menphina, the Lover
Grand Company
Maelstrom / Storm Captain
Attributes
| | |
| --- | --- |
| Strength | 305 |
| Dexterity | 5088 |
| Vitality | 5554 |
| Intelligence | 292 |
| Mind | 274 |
Offensive Properties
| | |
| --- | --- |
| Critical Hit Rate | 2884 |
| Determination | 2691 |
| Direct Hit Rate | 2889 |
Defensive Properties
| | |
| --- | --- |
| Defense | 4644 |
| Magic Defense | 4644 |
Physical Properties
| | |
| --- | --- |
| Attack Power | 5088 |
| Skill Speed | 1100 |
Mental Properties
| | |
| --- | --- |
| Attack Magic Potency | 292 |
| Healing Magic Potency | 274 |
| Spell Speed | 380 |
Role
LEVEL 80
Character Profile
So much hatred, negativity in the world. I choose not to participate, as those feelings only hurt my own soul. And I have worked too hard to change and evolve myself my entire life. I refuse to engage or interact with anything other than love and positivity. I have forgiven those who have harmed me, but I won't forget. I forgave for me. Bitterness, jealousy, envy are such ugly traits, however they are chosen ones. And if you choose to live your life in a such ways, you will never know the peace and happiness I've achieved and never be able to do anything to take it away.

I have endured more slander on this site then any point in my entire life. And I use to be an awful person, and yet people didn't need to constantly declare it. I was a true and genuine friend to those same people, and I'm tired of my heart not only being broken by these friendships I use to have, but trying to defend myself against any and all of their accusations and I believe, their honest to God views of me. It's easier to make me the monster than to admit that I was and am a good person and THEY sabotaged it. I have many friendships that are near and dear to me and have zero drama or issues. Those people who I spend my time with deserve my loyalty, laugher and generous actions. Those people are my support system that keep me going when I start to drown from the ugliness of how I'm portrayed on this site.

Self honesty and self accountability is what I not only hold my clients, friends and family to but most importantly myself. I only wish those who seem to always have harsh words and fingers pointed at me, could do the same for themselves.