Profile
Display Attributes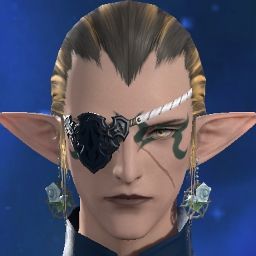 Race/Clan/Gender
Elezen
Duskwight / ♂
Nameday
22nd Sun of the 1st Umbral Moon
Guardian
Rhalgr, the Destroyer
Grand Company
Order of the Twin Adder / Serpent Captain
Attributes
| | |
| --- | --- |
| Strength | 306 |
| Dexterity | 340 |
| Vitality | 5007 |
| Intelligence | 360 |
| Mind | 5065 |
Offensive Properties
| | |
| --- | --- |
| Critical Hit Rate | 2274 |
| Determination | 1305 |
| Direct Hit Rate | 380 |
Defensive Properties
| | |
| --- | --- |
| Defense | 3405 |
| Magic Defense | 5955 |
Physical Properties
| | |
| --- | --- |
| Attack Power | 306 |
| Skill Speed | 380 |
Mental Properties
| | |
| --- | --- |
| Attack Magic Potency | 5065 |
| Healing Magic Potency | 5065 |
| Spell Speed | 2001 |
Role
LEVEL 80
Character Profile
Welcome.

A bit about me, I suppose. Wandering soul found by the Advent Children (fc company that is now discontinued--then re-established under new leadership). I've since grown and due to leadership differences I've struck out on my own. Striving to help all in need. One with the aether and draws from it strength. Kind and forgiving but will make a stand when action demands it. Easy to befriend.

I'm an active role player seeking other rpers. I've had a yo-yo relationship with the same woman, married (wife is decreased ig), a son born of the marriage (off-screen due to reasons), and have recently remarried to lira winters (an alt of a friend of mine; see below) who actually decided to take on my last name rather than carry on tradition.

Recently I re-absorbed the aether of my dark knight shade I made manifest so she could experience life on her own and, well, I'd be a woman until I can properly integrate or re-manifest her.

I've since calmed the storm of aether that I absorbed through various means and returned back to my original self. My shade has once again taken up residence guarding my home.

Home life consists of Lira- who is called Bellenker, my darling wife and twin children Olment (male elezen with some noticable mi'qote characteristics) and S'Vanna (female mi'qote).