Today's patch 3.4 preview will give players a peek at the battle with Sophia, one of the three towering pillars of the Warring Triad.
Sophia, the Goddess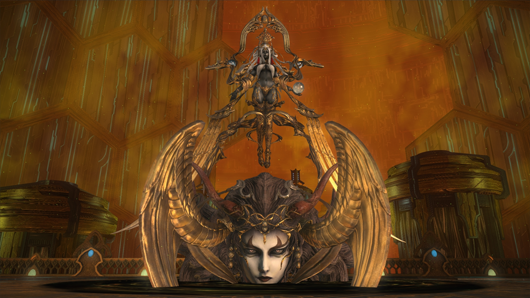 History tells of a Meracydian nation comprised of a multitude of races, the foundations of which were built on the worship of a single deity. The "Goddess," as she was simply known, graced the souls of her worshipers with perfect equilibrium, binding their disparate societies in gilded chains of harmony.
In the present day, she is better known as Sophia, one of the incalculably powerful eikons of the Warring Triad. And after five thousand years of imprisonment, her failed plans for vengeance once more threaten to come to fruition. Defeat the wakened thralls and slay the stirring Goddess, lest her divine "balance" bring all the world to equal ruin!
Containment Bay P1T6
Disciple of War or Magic level 60
Players must first complete the quest "The Fate of Stars."
Containment Bay P1T6 (Extreme)
Disciple of War or Magic level 60
Players must first complete the quest "Balance unto All."